Hunters and Federal Action Secure Wetlands for Future Generations
Early in the 20th century, habitats for waterfowl were shrinking. As a result, the sport and practice of bird hunting suffered. Hunters around the country began to lobby for government action that could protect these environments and preserve them for future Americans.
In 1929 President Herbert Hoover signed the Migratory Bird Conservation Act. This legislation established the United States Migratory Bird Conservation Commission (MBCC). The commission was tasked with analysis and ultimate approval of land purchase or rental by the US Fish and Wildlife Service. This represented a major win for the national conservation movement.
The program still needed a permanent source of funding. The Migratory Bird Hunting Stamp Act passed on March 16, 1934. Signed into law by President Franklin Roosevelt, this law arranged for the annual sale of duck stamps. The stamps are required for any hunter aged 16 or older.
Duck Stamps Continue to Protect Bird Habitats
According to the U.S. Fish & Wildlife Service, 98% of duck stamps' purchase price funds the acquisition and conservation of wetland habitats. Since their introduction in 1934, duck stamps have provided funds for the purchase of over 6 million acres of natural bird habitat. In this same time period over 300 wildlife refuges were established or expanded thanks to duck stamp revenues.
New stamps are issued on an annual basis. Initially, the stamps were sold in sheets of 28. In 1959, this was changed to 30 for ease of counting and printing. A single self-adhesive stamp has also been issued since 1998. And in 2000, the stamp sheets were changed again to a pane of 20 duck stamps.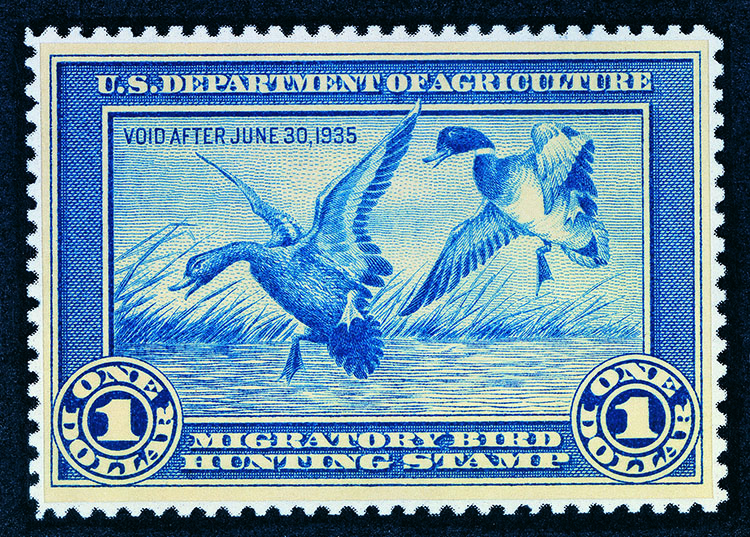 Contests Attract Dazzling Duck Designs
Worthy of its own article, the Federal Duck Stamp Art Contest has featured some beautiful natural art. Select artists designed stamps until 1949. President Franklin Roosevelt requested the first stamp design from Jay Darling.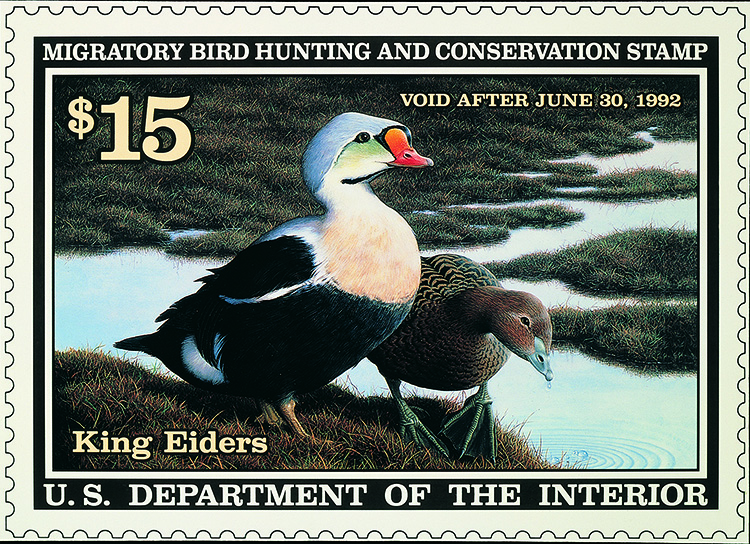 In 1949 the US Government held the first stamp design contest. Any US artist could submit designs. 65 artists submitted designs in the first year. Since then, the contest has grown immensely. By 1981, the contest saw 2,099 entries. This contest is unique as the only annual art competition sponsored by the U.S. Government. The U.S. Fish & Wildlife Service maintains a historical gallery of designs throughout the years.
Fought for by hunters, funded by hunters, and enjoyed by hunters all over the country, the Federal Duck Stamp program represents a long legacy of conservation efforts. It is yet another example of how live game hunters lead the charge in protecting our nation's wildlife and habitats.